Domestic Violence in the Asian American Community
Author: Joan Zorza .
Source: Volume 06, Number 03, February/March 2001 , pp.33-34(2)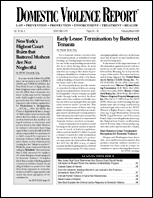 next article > |return to table of contents
Abstract:
Minorities, and particularly non- English speaking immigrant minorities, are often more adversely affected by domestic violence because of their tendency to be more isolated and have less knowledge of our systems or ability to access services. Fortunately, several sources are now available that document and explain these problems, and note various resources for battered immigrant minorities and for domestic violence service providers assisting them. We reviewed the excellent video, The Troubling Cycle. Summarized here are other helpful material.
Keywords: "A Life Without Fear " video; "Speaking the Unspeakable: Marital Violence Among South Asian Immigrants in the United States ", by Margaret Abraham

Affiliations: 1: Editor, Domestic Violence Report.