Complete Issue
Author: Joan Zorza.
Source: Volume 06, Number 04, April/May 2001 , pp.49-64(16)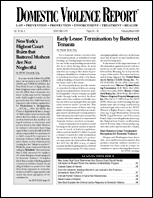 < previous article |return to table of contents
Abstract:
This is the complete issue, Volume 6 Number 4. It includes the full text of all the articles listed above, with hyperlinks from table of contents entries to articles and linked article continuations, to facilitate reading.
Keywords: "The War At Home" produced by "60 Minutes"; zero tolerance not clear and consistent; Military Protective Orders; MPOs; Joel Steinberg and Hedda Nussbaum; "Mandatory Reporting of Domestic Violence: An Inappropriate Response for New York Heal

Affiliations: 1: Editor, Domestic Violence Report.