Health Watch
Author: Nancy K. D. Lemon .
Source: Volume 06, Number 04, April/May 2001 , pp.51-52(2)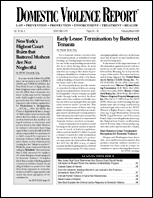 < previous article |next article > |return to table of contents
Abstract:
This is the first in a two-part series on the medical response to domestic violence. The first part reviews recent articles by legal professionals, and focuses primarily on the legal issues raised in these situations, such as mandatory reporting and liability of the healthcare professional. The second part of this two-part series will review recent articles in medical journals, primarily written by healthcare professionals, and will examine a broader array of issues and the results of various recent studies.
Keywords: "Mandatory Reporting of Domestic Violence: An Inappropriate Response for New York Health Care Professionals", by Mia M. McFarlane; "Kentucky Tort Liability for Failure to Report Family Violence", by James T. R. Jones; "Kringen v. Boslough a

Affiliations: 1: Associate Editor of DVR.