Complete Issue
Author: Joan Zorza, Esq..
Source: Volume 06, Number 05, June/July 2001 , pp.65-80(16)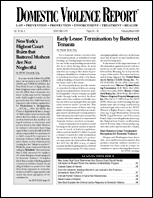 next article > |return to table of contents
Abstract:
This is the complete issue, Volume 6 Number 5. It includes the full text of all the articles listed above, with hyperlinks from table of contents entries to articles and linked article continuations, to facilitate reading.
Keywords: "Domestic Violence Is a Medical Issue", by Nancy K. D. Lemon; "Symposium: Violence Against Women– Changing Clinical Practice and Public Policy", Guest editors: Deborah N. Pearlman and Jill Waalen; violence prevention in community and health

Affiliations: 1: Editor, Domestic Violence Report.