Custody and Termination of Parental Rights Cases
Author: Staff Editors.
Source: Volume 06, Number 05, June/July 2001 , pp.71-71(1)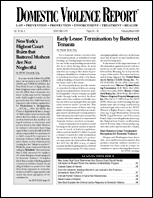 next article > |return to table of contents
Abstract:
This column summarizes and discusses recent cases concerning custody and termination of parental rights, including: In re A.W.J., 736 N.E.2d 716 (Ill. App. Ct. 2000); In re A.B.M., 17 S.W.3d 912 (Mo. Ct. App. 2000).
Keywords: imprisonment of a parent does not constitute abandonment

Affiliations: .