From the Literature: Books on All Levels
Author: Staff Editors.
Source: Volume 06, Number 06, August/September 2001 , pp.93-95(3)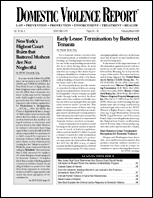 < previous article |next article > |return to table of contents
Abstract:
This column reviews recent publications, including: "Battered Women and the Law", by Clare Dalton & Elizabeth M. Schneider; "Shelters for Battered Women and Their Children: A Comprehensive Guide to Planning and Operating Safe and Caring Residential Programs", by Albert L. Shostack; "Whom Shall I Fear: A Spiritual Journey of a Battered Women", by Lavon Morris-Grant; "Family Abuse: A National Epidemic", by Maria Hong; and "Everything You Need to Know About Breaking the Cycle of Domestic Violence", Charlotte Kinstlinger-Bruhn.
Keywords: textbook on domestic violence

Affiliations: .