The Problem With Proxy Measures: The Inaccuracy of the Conflict Tactic Scales and Other Crime Surveys in Measuring Intimate Partner Violence
Author: Joan Zorza, Esq..
Source: Volume 06, Number 06, August/September 2001 , pp.83-87(5)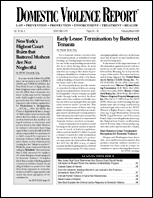 < previous article |next article > |return to table of contents
Abstract:
Just what does the Conflict Tactic Scales (CTS) measure? Murray Straus was good enough to mail me two of his recent articles, one published as chapter two in Ximena B. Arriaga and Stuart Oskamp's book, Violence in Intimate Relationships and one still in draft form that was co-authored by Luis Ramirez. It was clear that this was an effort on Straus' part to reach out to the feminist community, to explore and hopefully explain a long-standing disagreement over the CTS, the instrument he developed and which is closely associated with his and Richard Gelles' names. This article is the author's personal reaction and commentary, focusing on conflicts between what Straus calls the family conflict studies (FCS) using the CTS, and the crime studies (CS).
Keywords: CTS overinflates IPV

Affiliations: 1: Editor, Domestic Violence Report.