Massachusetts Holds That Victim Witness Advocates' Notes Are Protected
Author: Karen Dempsey.
Source: Volume 06, Number 06, August/September 2001 , pp.81-81(1)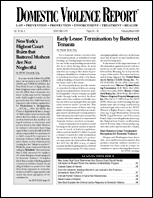 < previous article |next article > |return to table of contents
Abstract:
In a decision vital to advocates' ability to serve crime victims, the Massachusetts Supreme JudiciCourt ruled unanimously on May 15, 2001 in Commonwealth v. Lliang, __ Mass. __ (2001), that the notes of a prosecution-based victim witness advocate are protected by the same rules applied to a prosecutor's notes. The ruling, by the state's highest court, recognizes advocates as essential members of the prosecution team and underscores the critical nature of the advocate's role in protecting victim rights throughout the prosecution process.
Keywords: prosecution-based victim witness advocate

Affiliations: 1: Massachusetts Office of Victim Assistance.