"Lawrence" and "Nunn" Reject the "Friendly Parent" Concept
Author: Margaret K. Dore, Esq..; J. Mark Weiss, Esq..
Source: Volume 06, Number 06, August/September 2001 , pp.81-82(2)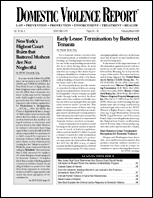 next article > |return to table of contents
Abstract:
Washington State has rejected the so-called "friendly parent" concept as a basis for child custody in two reported decisions: Lawrence v. Lawrence, 20 P.3d 972 (Wash. App. 2001) and Custody of Nunn, 14 P.3d 175 (Wash. App. 2000). "Lawrence" holds that use of the concept "would be an abuse of discretion." It is the first reported decision in the United States and Canada to identify the concept and reject it. This article discusses how the friendly parent concept works in practice.
Keywords: friendly parent concept rewards manipulative litigation tactics

Affiliations: 1: appellate lawyer.