From the Literature–Domestic Violence Issues in Family Court
Author: Nancy K. D. Lemon, Esq..
Source: Volume 07, Number 01, October/November 2001 , pp.7-10(4)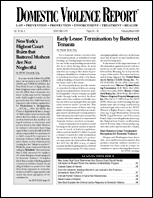 < previous article |next article > |return to table of contents
Abstract:
This column reviews recent publications involving domestic violence issues, including, "Summary of Law Review Articles From Property to Personhood: What the Legal System Should Do for Children in Family Violence Cases", by Leigh Goodmark; "When Paradigms Collide: Protecting Battered Parents and Their Children in the Family Court System", by Clare Dalton; "Domestic Violence and Shared Parental Responsibility: Dangerous Bedfellows", by D. Lee Khachaturian; "Domestic Violence and Custody: Importing the American Law Institute's Principles of the Law of Family Dissolution Into Oregon Law", by Merle H. Weiner; "Protecting Victims of Domestic Violence and Their Children After Divorce: The American Law Institute's Model", by Kathy Reihing.
Keywords: Assistant Director of the ABA Center on Children and the Law; current custody and visitation statutes inadequate

Affiliations: 1: Associate Editor of DVR.