Florida Court Upholds Ex-Wife's Testimony of Gun Threat to Impeach Husband Accused of Killing His Girlfriend
Author: Staff Editors.
Source: Volume 07, Number 01, October/November 2001 , pp.6-6(1)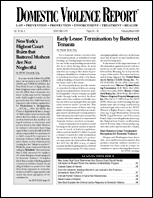 < previous article |next article > |return to table of contents
Abstract:
Floyd Thomas Robertson was tried for the murder of his live-in girlfriend, Maria Nelson, and convicted of second degree murder and sentenced to life imprisonment for killing her. This article summarizes the details of the case and the court proceedings in which the defendant's ex-wife's testimony was admitted to impeach his testimony.
Keywords: dissenting opinion

Affiliations: .