Some Controversies Concerning Classifying and Treating Stalkers
Author: Staff Editors.
Source: Volume 07, Number 01, October/November 2001 , pp.3-5(3)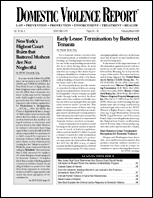 < previous article |next article > |return to table of contents
Abstract:
This article examines several controversies concerning how stalkers are classified and whether treatment works and, if so, for which stalkers.
Keywords: stalker's target categories; Daubert v. Merrell Dow Pharmaceuticals, Inc.; Kumho Tire Co. v. Car -Michael; Lawrence v. Lawrence

Affiliations: .