Full Faith and Credit for Custody Orders: Improvements Brought by the UCCJEA and VAWA II
Author: Joan Zorza, Esq..
Source: Volume 07, Number 01, October/November 2001 , pp.1-3(3)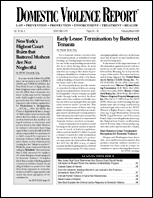 next article > |return to table of contents
Abstract:
Orders granting battered women custody have helped to prevent them from being abused. In particular, if a battered woman had custody, it often made it harder for her abuser to abduct the children. At the same time, orders granting the abuser visitation, especially when they are not extremely clear, may have the opposite effect. One problem is that in most states where custody can be granted, visitation can also be awarded, and this is true even in cases seeking protection from abuse. This article will discuss the quagmire of laws that have made custody provisions and custody orders enforceable, but will not address the gender bias in the system, though such bias remains a large problem.
Keywords: PKPA Prempts [sic] UCCJA; PKPA Emergency Jurisdiction Includes Domestic Violence

Affiliations: 1: Editor, Offender Programs Report.