Children Witnessing Domestic Violence: What Affects Their Well-Being Over Time?
Author: Cris M. Sullivan.; Deborah Bybee.
Source: Volume 07, Number 02, December/January 2002 , pp.19-22(4)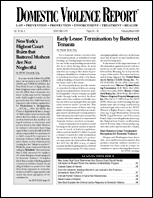 < previous article |next article > |return to table of contents
Abstract:
Millions of children witness their mothers being abused each year, and the overlap between woman battering and child abuse has been estimated to be between 30% and 70% , depending on study methodology. Children who witness their mothers being abused are at risk for conduct disorders and psychoemotional problems such as anxiety and depression, low social competence, problem-solving and social skills, and poor academic performance. A great deal of children's adjustment difficulties have been blamed either directly or indirectly on their mothers. Mothers have been charged with "failure to protect" when their children witness assaults against them, and have been portrayed as emotionally unavailable and/or overly harsh with their children, as a consequence of their own abuse. This characterization prevails, despite published studies finding no parenting differences between battered and non-battered women. This article analyzes the research and summarizes the authors' current research.
Keywords: Relationship Between Child Adjustment, Mother's Parenting, and Assailant's Violence

Affiliations: 1: Michigan State University; 2: Michigan State University.