Battered Women Receive Prison Sentences Rather Than Purple Hearts
Author: Nancy K. D. Lemon .
Source: Volume 07, Number 02, December/January 2002 , pp.15-17(3)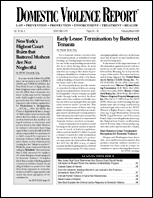 < previous article |next article > |return to table of contents
Abstract:
This article is a first-person account of domestic violence work, focusing on one example, a battered woman who killed her husband/abuser.
Keywords: Need for Mother-Infant Prison Programs

Affiliations: 1: Associate Editor of DVR.