Lessons From Ground Zero
Author: Julie Kunce Field.
Source: Volume 07, Number 02, December/January 2002 , pp.15-17(3)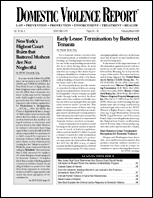 next article > |return to table of contents
Abstract:
That initial shock of the thousands of murders of September 11 gave way to a public gathering spirit and an overriding question of "what can I do to help?" "I have do to something [sic] . What can I do?" The other overriding question was "what do we tell the children about what happened? How can we explain to them about an evil which allows for the murders of so many? What can I do?" The third question, which you all are probably asking yourselves right now is: "why is she even talking about this? I thought she was going to talk about domestic violence." Let me answer the third question first–I am talking about the murders of September 11 because the international terrorism which caused those deaths shares many of the same characteristics as the home-based terrorism of domestic violence. This first-person article develops this point.
Keywords: domestic violence workers are heroes

Affiliations: 1: University of Denver Law School.