Complete Issue
Author: Joan Zorza .
Source: Volume 07, Number 03, February/March 2002 , pp.33-48(16)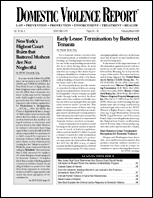 < previous article |return to table of contents
Abstract:
This is the complete issue, Volume 7 Number 3. It includes the full text of all the articles listed above, several of which are inter-related, with hyperlinks from table of contents entries to articles and linked article continuations, to facilitate reading.
Keywords: violence linked to stalking at work; "no trespass" order; "Marital Rape" by Mary Kay Kirkwood and Dawn K. Cecil; and "Violence, Injury, and Presentation Patters [sic] in Spousal Sexual Assaults" by Lana Stermac, Giannetta DelBove and Mar

Affiliations: 1: Editor, Domestic Violence Report.