Financial Recovery as a Result of Domestic Violence
Author: Staff Editors.
Source: Volume 07, Number 03, February/March 2002 , pp.35-36(2)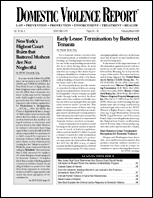 < previous article |next article > |return to table of contents
Abstract:
The cases discussed deal with how different courts treat spouses' claims for financial recovery when there has been domestic violence. They include: Clark v. Office of Personnel Management, 256 F.3d 1360 (Fed. Cir. 2001); Liberty v. Liberty, 769 A.2d 845 (Me. 2001); Bittner v. Harleysville Ins. Co. , 769 A.2d 1085 (N.J. Super. Ct. App. Div. 2001); Gregg v. Gregg, 2001 WL 909002 (Ohio Ct. App. 2001); Panpat v. Owens-Brockway Glass Container, 21 P.3d 97 (Or. Ct. App. 2001); and McCulloh v. Drake, 24 P.3d 1162 (Wyo. 2001).
Keywords: Husband Who Allegedly Killed Wife Precluded From Collecting Death Benefit

Affiliations: .