Complete Issue
Author: Joan Zorza, Esq..
Source: Volume 07, Number 04, April/May 2002 , pp.49-64(16)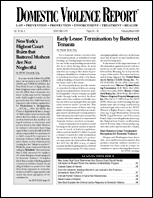 < previous article |return to table of contents
Abstract:
This is the complete issue, Volume 7 Number 4. It includes the full text of all the articles listed above, with hyperlinks from table of contents entries to articles and linked article continuations, to facilitate reading.
Keywords: US v. Morrison; Glenny Warzeski; Isabel Medina; Patricia Tjaden; James T. R. Jones; integrating domestic violence into law curriculum; Erica Beecher-Monas; Sharon G. Portwood, John Q. LaFond, and Kelly E. Kinnism; Barbara Stark; Jerry J. Phillips; L

Affiliations: 1: Editor, Domestic Violence Report.