New Resources on Custody
Author: Joan Zorza, Esq..
Source: Volume 07, Number 04, April/May 2002 , pp.51-55(5)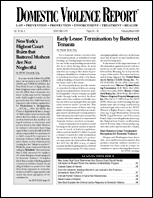 < previous article |next article > |return to table of contents
Abstract:
This column reviews recent books and articles regarding custody issues: "What Is Wrong With Parental Alienation Syndrome and Its Progeny? Parental Alienation Syndrome and Parental Alienation: Getting it Wrong in Child Custody Cases", by Carol S. Bruch; "The Batterer as Parent: Addressing the Impact of Domestic Violence on Family Dynamics", by Lundy Bancroft and Jay G. Silverman; "Scared to Leave, Afraid to Stay: Paths From Family Violence to Safety", by Barry Goldstein; "Small Justice: Little Justice in America's Family Courts" (video); "Statutes Creating Rebuttable Presumptions Against Custody to Batterers: How Effective Are They?", by Nancy Lemon.
Keywords: People v. Forten; Richard Gardner; Katsenelenbogen v. Katsenelenbogen

Affiliations: 1: Editor, Domestic Violence Report.