Dental Experiences More Stressful for Sexual Abuse Survivors
Author: Joan Zorza, Esq..
Source: Volume 07, Number 05, June/July 2002 , pp.69-69(1)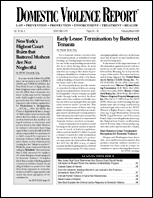 < previous article |next article > |return to table of contents
Abstract:
This issue's Health Watch column raises many issues involving battered women that dentists should be aware of. Dentists should also be looking at how sexual assaults can affect their patients' dental experiences. While most sexual assaults take place outside of marriage, the issues are often very similar for victims of marital rape. Furthermore, as roughly half of all women who are battered were previously sexually assaulted–most often as children–dentists and those working with battered women should be aware that sexual assault issues may be making their dental experiences considerably more stressful, as a study shows.
Keywords: Kate F. Hays and Sheila F. Stanley

Affiliations: 1: Editor, Domestic Violence Report.