California and Compassion: A Slow Campaign to Release Battered Women From Prison
Author: Lee H. Bowker, Ph.D..
Source: Volume 07, Number 06, August/September 2002 , pp.81-84(4)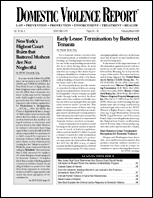 next article > |return to table of contents
Abstract:
California, like many other states, has improved the legal situation of victimized women in recent decades. This has occurred in many different ways, some formal and some informal. The improvements extend from the first moment of contact that a victimized woman has with law enforcement personnel to the legal consideration that now is being shown to battered women who have been convicted of murdering their abusers. This article is about one of the most recent of these changes, the compassionate review of the cases of the more than 70 battered women who were convicted of murder prior to two California Supreme Court decisions that greatly improved the potency of a battered woman syndrome (BWS) defense strategy. All of these women currently are incarcerated in California's prisons for women.
Keywords: Board of Prison Terms; BPT

Affiliations: 1: Humboldt State University.