Restraining Order Cases From Around the Country
Author: Anne L. Perry .
Source: Volume 08, Number 01, October/November 2002 , pp.5-5(1)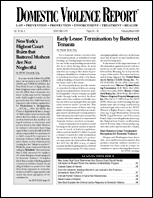 next article > |return to table of contents
Abstract:
This column summarizes and discusses recent court cases on the subject: J.M.R. v. S.T.R., 15 P.3d 253 (Alaska 2001); Bartsch v. Bartsch, 636 N.W.2d 3 (Iowa 2001); and Bays v. Bays, 779 So.2d 754 (La. 2001).
Keywords: personal jurisdiction; Court Does Not Have Authority to Issue Mutual Protective Orders on a Petition by One Party

Affiliations: 1: Associate Editor of DVR.