Lesbian and Gay Battering and Sexual Abuse
Author: Joan Zorza, Esq..
Source: Volume 08, Number 01, October/November 2002 , pp.4-7(4)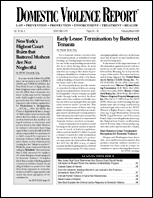 next article > |return to table of contents
Abstract:
Four books on the subject are reviewed: Woman-to-Woman Sexual Violence: Does She Call It Rape?, by Lori B. Girshick; Intimate Betrayal: Domestic Violence in Lesbian Relationships, edited by Ellyn Kaschak; No More Secrets: Violence in Lesbian Relationships, by Janice L. Ristock; and A Professional's Guide to Understanding Gay and Lesbian Domestic Violence: Understanding Practice Interventions, edited by Joan C. McClennen and John Gunther.
Keywords: Fundamental Interpersonal Relations Orientation- Behavior scale; FIRO-B

Affiliations: 1: Editor, Domestic Violence Report.