Sonoma County, California, Sheriff's Department Settles Domestic Violence Murder Case for One Million Dollars
Author: Nancy K. D. Lemon, Esq..
Source: Volume 08, Number 01, October/November 2002 , pp.1-6 (6)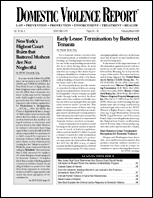 next article > |return to table of contents
Abstract:
This article discusses the background of a California case involving sheriff's department mishandling of repeated domestic violence, violations of restraining orders, and other incidents, and, after the murder by the batterer of his wife and wounding of his mother-in-law, the ensuing suit brought in the name of the mother-in-law and the surviving children and its outcome. The author testified at the trial.
Keywords: Maria Teresa; Avelino Macias; Purple Berets

Affiliations: 1: Associate Editor of DVR.