Complete Issue
Author: Joan Zorza, Esq..
Source: Volume 08, Number 02, December/January 2003 , pp.17-32(16)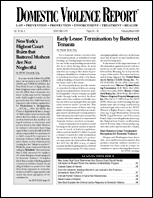 < previous article |return to table of contents
Abstract:
This is the complete issue, Volume 8 Number 2. It includes the full text of the articles listed above, with hyperlinks from table of contents entries to articles and linked article continuations, to facilitate reading.
Keywords: Lundy Bancroft and Jay G. Silverman, The Batterer as Parent: Addressing the Impact of Domestic Violence on Family Dynamics; California Coalition for Battered Women in Prison; CCBWP; National Clearinghouse for the Defense of Battered Women; People v.

Affiliations: 1: Editor, Domestic Violence Report.