New Research: Broward County Experiment Shows No Benefit From Batterer Intervention Programs
Author: Joan Zorza, Esq..
Source: Volume 08, Number 02, December/January 2003 , pp.23-24(2)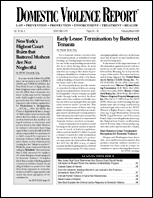 < previous article |next article > |return to table of contents
Abstract:
In what is probably the most scientifically sound experiment conducted to date to evaluate the effectiveness of sending male batterers to court-mandated counseling for misdemeanor domestic violence offenses, Lynette Feder and Laura Dugan ("A Test of the Efficacy of Court-Mandated Counseling for Domestic Violence Offenders: The Broward Experiment," 19(2) Justice Quarterly 343-375 (June 2002)) found no significant differences in behaviors, beliefs or attitudes regarding domestic violence between those male batterers randomly assigned to a batterers' intervention program and those not assigned to the batterers' intervention program. The study is discussed here.
Keywords: how to assess the intervention program

Affiliations: 1: Editor, Domestic Violence Report.