The Latest Books on Batterers and Batterer Intervention Programs
Author: Joan Zorza, Esq..
Source: Volume 08, Number 02, December/January 2003 , pp.19-22(4)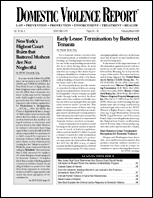 < previous article |next article > |return to table of contents
Abstract:
This article reviews and discusses three new books on the subject: Domestic Violence Offenders: Current Interventions, Research, and Implications for Policies and Standards, edited by Robert A. Geffner & Alan Rosenbaum; Programs for Men Who Batterer [sic]: Intervention and Preservation Strategies in a Diverse Society, edited by Etiony Aldarondo and Fernando Mederos (Civic Research Institute, 518 pages, 2002; Lundy Bancroft, Why Does He Do That? Inside the Minds of Angry and Controlling Men.
Keywords: Lundy Bancroft and Jay G. Silverman, The Batterer as Parent: Addressing the Impact of Domestic Violence on Family Dynamics

Affiliations: 1: Editor, Domestic Violence Report.