Interesting Action on Federal Domestic Violence Firearms Prohibition
Author: Anne L. Perry, Esq..
Source: Volume 08, Number 03, February/March 2003 , pp.40-40(1)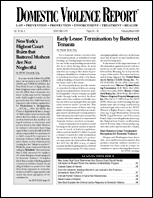 < previous article |next article > |return to table of contents
Abstract:
This article discusses recent cases concerning the Gun Control Act amendment that prohibits the possession of firearms by persons subject to domestic violence restraining orders: Emerson v. U.S., 122 S.Ct. 2362; US v. Muhammad; Magoon v. Thoroughgood, 803 A.2d 1070 (N.H. 2002).
Keywords: John Allan Muhammad;

Affiliations: 1: Associate Editor of DVR.