On Laws Prohibiting Possession of Firearms by Batterers
Author: Nancy K. D. Lemon, Esq..
Source: Volume 08, Number 03, February/March 2003 , pp.37-39(3)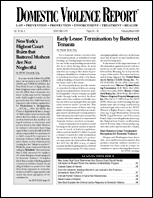 < previous article |next article > |return to table of contents
Abstract:
The major federal legislation restricting possession of firearms was passed in 1994 and 1996. However, this is still a very hot topic. Judges in some parts of the U.S. refuse to convict people accused of domestic violence because any conviction will make it a federal offense to own or possess a gun from then on. John Muhammed, the recent Maryland sniper, who was subject to a Washington state domestic violence restraining order, was initially held for violation of a federal gun law before prosecutors charged him with the murders of several people Domestic violence deaths from guns, primarily men killing women, continue at alarming rates in the U.S. And challenges to these statutes continue to be raised in state and federal courts. This article reviews six articles concerning the Lautenberg Amendment: Kerri Fredheim, "Closing the Loopholes in Domestic Violence Laws: The Constitutionality of 18 U.S.C. Section 922(g)(9," 19 Pace L. Rev. 445 (1999); Jodi L. Nelson, "The Lautenberg Amendment: An Essential Tool for Combatting Domestic Violence"; Ashley G. Pressler, "Guns and Intimate Violence: A Constitutional Analysis of the Lautenberg Amendment"; Polly McCann Pruneda, "The Lautenberg Amendment: Congress Hit the Mark by Banning Firearms From Domestic Violence Offenders"; Alison J. Nathan, "At the Intersection of Domestic Violence and Guns: The Public Interest Exception and the Lautenberg Amendment"; Jessica A. Golden, "Examining the Lautenberg Amendment in the Civilian and Military Contexts: Congressional Overreaching, Statutory Vagueness, Ex Post Facto Violations, and Implementation Flaws".
Keywords: US v. Emerson; Lautenberg Amendment; Fraternal Order of Police v. U.S.; US v. Lopez; Printz v. US; US v. Morrison

Affiliations: 1: Associate Editor of DVR.