The Role of Duress in Crimes Committed by Battered Women
Author: Lee H. Bowker, Ph.D..; Nancy K.D. editorial comments by Lemon, Esq..
Source: Volume 08, Number 03, February/March 2003 , pp.35-36(2)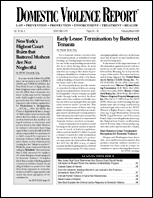 < previous article |next article > |return to table of contents
Abstract:
Twenty years ago, there was little recognition of woman battering. Ten years ago, there was only limited recognition in the courts of woman battering. We see today that the courts in many states have become sensitive to the role of battering in lethal counter-violence. That is to say, when a battered woman kills her batterer under conditions that cannot be said to be self-defense, the court generally will allow the defense theory to be based on "battering and its effects" (BE) or "domestic violence and its effects" (DVE). BE or DVE explains how a battered woman is imprisoned in a relationship from which there appears to be no escape, and why she feels in mortal danger from her batterer even when he is not battering her. This article discusses the issue and its application.
Keywords: crimes committed under duress

Affiliations: .