In Memoriam: Sheila and Paul Wellstone
Author: Staff Editors.
Source: Volume 08, Number 03, February/March 2003 , pp.33-33(1)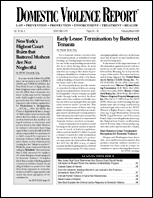 < previous article |next article > |return to table of contents
Abstract:
The tragic deaths of Senator Paul Wellstone, his wife Sheila, several members of their staff and their daughter Marsha on October 26, 2002, the eve of the last election, is a devastating loss to the entire domestic violence and sexual assault community. No other senator has championed our cause more consistently or persuasively than Senator Paul Wellstone. His wife Sheila was much of the reason why.
Keywords: STAND; Connie Morella

Affiliations: .