Battered Mothers Speak Out About Court Injustices
Author: Joan Zorza, Esq..
Source: Volume 08, Number 03, February/March 2003 , pp.33-37(5)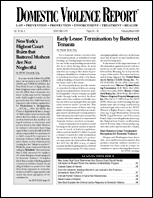 next article > |return to table of contents
Abstract:
This first part of this two-part article examines an innovative study of the Massachusetts family courts, which shows how they are treating battered women and their children in custody disputes with the women's abusers.
Keywords: Battered Mothers' Testimony Project at the Wellesley Centers for Women; Battered Mothers Speak Out: A Human Rights Report on Domestic Violence and Child Custody in the Massachusetts Family Courts; Jay Silverman

Affiliations: 1: Editor, Domestic Violence Report.