New Books on Custody and Domestic Violence
Author: Staff Editors.
Source: Volume 08, Number 04, April/May 2003 , pp.52-53(2)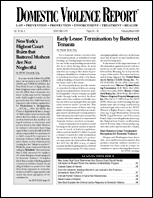 < previous article |next article > |return to table of contents
Abstract:
New books reviewed subsequent to previous issue review (78 DVR 51) of Lundy Bancroft and Jay G. Silverman's excellent new book, The Batterer as Parent: Addressing the Impact of Domestic Violence on Family Dynamics: Child Custody & Domestic Violence: A Call for Safety and Accountability, edited by Peter G. Jaffe, Nancy K.D. Lemon and Samantha E. Poisson; Domestic Violence in the Lives of Children: The Future of Research, Intervention, and Societal Policy, edited by Sandra A. Graham-Berman and Jeffrey L. Edleson.
Keywords: "friendly parent" provisions

Affiliations: .