Battered Mothers Speak Out: Part II, The Recommendations
Author: Joan Zorza, Esq..
Source: Volume 08, Number 04, April/May 2003 , pp.49-52(4)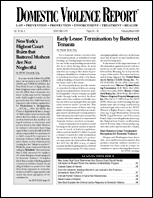 < previous article |next article > |return to table of contents
Abstract:
The lead article in the last issue of DVR reported on the findings of the Battered Mothers' Testimony Project, which looked at how the Massachusetts Family Courts were violating the human rights of battered women and their children in child custody cases. Specifically the article considered what the courts and other state actors did to these mothers that violated Massachusetts' laws and constitution, the federal constitution, and international treaties. The project pointed to many due process, human rights and gender bias violations perpetrated by judges, probation officers (who act as mediators and do some investigative work), guardians ad litems ("GALs"), court appointed psychological custody evaluators and child protection workers. This second part of the piece discuses the project's recommendations.
Keywords: reform the guardian ad litem system

Affiliations: 1: Editor, Domestic Violence Report.