Questioning the Broward Experiment
Author: Edward W. Gondolf, Ed.D., M.P.H..
Source: Volume 08, Number 04, April/May 2003 , pp.49-51(3)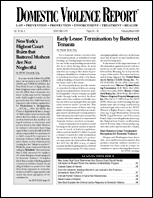 next article > |return to table of contents
Abstract:
The headlines of a recent article in the December/January issue of DVR echoed the bottom-line of the touted Broward experiment—"no benefit from batterer counseling." The researchers assert that this experiment is a "valid and rigorous test" and as DVR pointed out, "the most scientific" to date. It is these claims that make the study noteworthy and even conclusive to some practitioners and policymakers. The experimental design is considered by many researchers as the "gold standard" or ideal test for effectiveness). Consequently, the study is increasingly being used to oppose batterer programs in general and reinforce objections to funding them. It is discussed here, taking issue with its findings.
Keywords: experimental design shortcomings

Affiliations: 1: Mid-Atlantic Addiction Training Institute (MAATI).