Complete Issue
Author: Joan Zorza, Esq..
Source: Volume 08, Number 05, June/July 2003 , pp.65-80(16)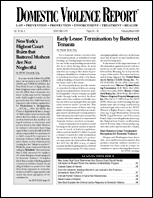 next article > |return to table of contents
Abstract:
This is the complete issue, Volume 8 Number 5. It includes the full text of all the articles listed above, with hyperlinks from table of contents entries to articles and linked article continuations, to facilitate reading.
Keywords: aggravated rather than statutory rape; pregnancy-associated deaths; Seattle epidemiologists; need for research on non-Hispanic immigrants; No municipal liability for shooting in courthouse; "defense of another" extend to protection of fetus

Affiliations: 1: Editor, Domestic Violence Report.