Recent Cases From Around the Country
Author: Staff Editors.
Source: Volume 08, Number 05, June/July 2003 , pp.75-77(3)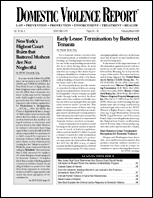 next article > |return to table of contents
Abstract:
This article summarizes and discusses recent court cases of interest to readers of DVR, including: Amadeo v. Principal Mut. Life Ins. Co., 290 F.3d 1152 (9th Cir. 2002); Zelig v. Cty. of Los Angeles, 119 Cal. Rptr. 2d 709 (Cal. 2002; People v. Kurr, __ N.W.2d __, 2002 WL 31236434 (Mich. Ct. App. 2002).
Keywords: No municipal liability for shooting in courthouse; "defense of another" extend to protection of fetus

Affiliations: .