Review of Study of Arrests Following Violations of Restraining Orders
Author: Staff Editors.
Source: Volume 08, Number 06, August/September 2003 , pp.86-87(2)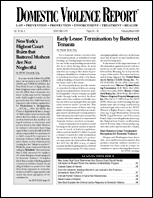 < previous article |next article > |return to table of contents
Abstract:
Civil restraining or protective orders issued pursuant to domestic violence offenses carry the force of law and the threat of arrest. But research shows that less than half of restraining order violations actually result in arrest This study by Robert J. Kane entitled "Violations of Retraining Orders Only Sometimes Lead to Arrests examined the police decision-making process in response to restraining order violations using the "custody-threshold" conceptual framework. This column reviews that study.
Keywords: number of prior incidents; Restraining Orders and arrest decision

Affiliations: .