Stalking and Technology Cases
Author: Anne L. Perry, Esq..
Source: Volume 08, Number 06, August/September 2003 , pp.83-85(3)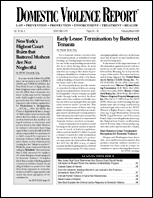 < previous article |next article > |return to table of contents
Abstract:
This column summarizes and discusses recent cases involving stalking and technology, including: People v. Sullivan; Remsburg v. Docusearch; H.E.S. v. J.C.S. (New Jersey); US v. Al-Zubaidy; US v. Morrison
Keywords: husband's placement of global positioning system; placement of GPS; internet investigation service may be liable; video surveillance of wife's bedroom

Affiliations: 1: Associate Editor of DVR.