Law Review Articles on Evidentiary Issues
Author: Nancy K. D. Lemon, J.D..
Source: Volume 08, Number 06, August/September 2003 , pp.81-84(4)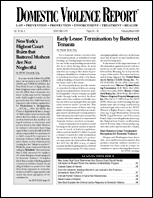 < previous article |next article > |return to table of contents
Abstract:
The outcomes of domestic violence cases, both civil and criminal, often turn on evidentiary issues. Some of these issues are familiar to all trial attorneys; these include the hearsay rule and its many exceptions, and marital privileges. However, their application in domestic violence cases may be different than in other contexts. Other evidentiary issues are unique to domestic violence cases; most significantly, these include expert testimony on the effects of battering, or
Keywords: evidence issues in domestic violence civil cases; Aiken and Murphy; updating marriage privileges; witness-centered rationale; Amanda H. Frost; Reconceptualizing Battered Women Syndrome Evidence; Paula Finley Mangum; Boston College Third World Law Jou

Affiliations: 1: Associate Editor of DVR.