Justice in the Domestic Relations Division of Philadelphia Family Court: A Report to the Community
Author: Carol Tracy.; Terry Fromson.; Dabney Miller.
Source: Volume 08, Number 06, August/September 2003 , pp.81-85(5)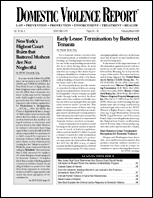 next article > |return to table of contents
Abstract:
This is yet another study that is revealing serious inadequacies in how our family law courts deal with cases involving domestic violence. Unlike the study of the Massachusetts courts, this study was done in support of the courts and involved the solicitation of information from a far wider and more representative group of sources. Nonetheless, many of its conclusions are not that different. It includes a number of recommendations.
Keywords: Family Court held in lowest esteem; Women's Law Project; WLP; litigants without resources to present cases effectively

Affiliations: 1: Women's Law Project; 2: Women's Law Project; 3: Women's Law Project.