Summary of Recent Strangulation Case Law
Author: Casey Gwinn, J.D..; Gael Strack, J.D..; Annie Perry, J.D. .; Melissa Mack.
Source: Volume 19, Number 06, August/September 2014 , pp.86-89(4)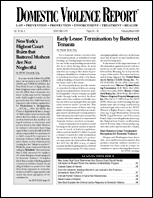 < previous article |next article > |return to table of contents
Abstract:
The Training Institute on Strangulation Prevention has been monitoring how courts are ruling on new strangulation laws that have passed across the United States. Among the cases summarized: admission of non-percipient expert testimony, domestic battery by strangulation, strangulation and rape as separate convictions, strangulation without visible injury, and other cases regarding qualified expert testimony, admissible testimony, and medical evidence supporting findings.
Keywords: State v. Cox; LaChance v. State; State v. Tannreuther; State v. Supino; People v. Figueroa; State v. Delgado; State v. Battle; State v. Lowery; State v. Crudup; Carter v. State; People v. Romero

Affiliations: 1: Family Justice Center Alliance; 2: Family Justice Center Alliance; 3: Contributing Editor; 4: San Diego County District Attorney's Office.