Complete Issue
Author: Joan Zorza, Esq..
Source: Volume 09, Number 01, October/November 2003 , pp.1-16(16)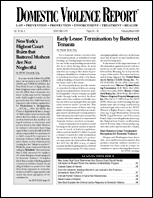 < previous article |return to table of contents
Abstract:
This is the complete issue, Volume 9 Number 1. It includes the full text of all the articles listed above, with hyperlinks from table of contents entries to articles and linked article continuations, to facilitate reading.
Keywords: Sanford L. Braver, Ira M. Ellman, and William V. Fabricius; parental move-aways; LaMusga; Marriage of Burgess; Baures v. Lewis; Braver Study as Published Is a Political Treatise Masquerading as Science; fathers right groups; "Weiand v. State and Ba

Affiliations: 1: Editor, Domestic Violence Report.