Post-Divorce Children Relocating With Mothers Do Best: So Why Does the Braver Study Hide Its Own Results?
Author: Trish Wilson.
Source: Volume 09, Number 01, October/November 2003 , pp.1-5 (5)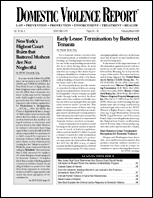 next article > |return to table of contents
Abstract:
It is critical for battered women and their children to have the option of moving away from their abusers. Although revisions in some state statutes and the case law of some states over the past decade have made it easier for mothers to relocate with their children, judges often forbid them from doing so, or force them to return when they have fled, frequently giving custody to the abusive fathers. Cases on relocation drag on for months, sometimes years, forcing mothers and children to place their lives on hold. Jobs are lost. New marriages suffer. Now a study by Braver and colleagues, which examined college students whose parents were divorced, finds that those children who lived with their fathers did worst of all, and those who relocated with mothers did well. The researchers never asked if there was domestic violence in any of these families (although statistically it happens in at least half of divorce cases), but the Braver findings are so dramatic that they should be used to persuade courts and legislatures that their relocation and joint custody policies are flawed, particularly for battered women. This article explains why the Braver team advocates joint legal custody and claims that their research proves that moving hurts children.
Keywords: Sanford L. Braver, Ira M. Ellman, and William V. Fabricius; parental move-aways; LaMusga; Marriage of Burgess; Baures v. Lewis; Braver Study as Published Is a Political Treatise Masquerading as Science; fathers right groups

Affiliations: .