Complete Issue
Author: Joan Zorza, Esq..
Source: Volume 09, Number 02, December/January 2004 , pp.17-32(16)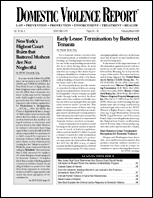 < previous article |return to table of contents
Abstract:
This is the complete issue, Volume 9 Number 2. It includes the full text of the articles listed above, with hyperlinks from table of contents entries to articles and linked article continuations, to facilitate reading.
Keywords: theoretical framework for analyzing the circumstances leading to these victim precipitated homicides; battering control abuse scale; California Board of Prison Terms; BPT; Misrepresenting the Effect of Fathers' Absence to Prevent Mothers' Relocat

Affiliations: 1: Editor, Domestic Violence Report.