Special Issue Provides Judges With Introduction to Domestic Violence
Author: Nancy K. D. Lemon, Esq..
Source: Volume 09, Number 02, December/January 2004 , pp.23-25(3)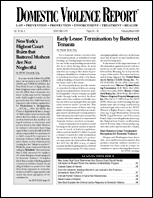 < previous article |next article > |return to table of contents
Abstract:
A special issue of Court Review, Journal of American Judges Assoc (Vol 39, No. 2, Summer 2002) provides an excellent introduction to domestic violence for judges. Many of the authors are nationally recognized experts on their topics, and the articles are short, clear, and contain useful footnotes to other sources for more in-depth study. This is a good journal to give to bench officers or anyone dealing with the legal system, especially those relatively new to the field of domestic violence. This column discusses articles contained in that issue.
Keywords: "Screening for Domestic Violence: Meeting the Challenge of Identifying Domestic Relations Cases Involving Domestic Violence and Developing Strategies for Those Cases", by Julie Kunce Field; "Dealing With Complex Evidence of Domestic Violence: A

Affiliations: 1: Associate Editor of DVR.