Arizona Battered Mothers' Testimony Project: A Human Rights Approach to Child Custody and Domestic Violence
Author: Diane Post, Esq..
Source: Volume 09, Number 02, December/January 2004 , pp.21-22(2)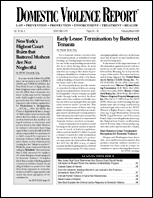 < previous article |next article > |return to table of contents
Abstract:
This article summarizes an Arizona study that adds more information to what we know about how our family courts are handling contested custody issues in divorce cases.
Keywords: Nicholson v. Williams; Jill Zuccardy; Arizona Coalition Against Domestic Violence; Battered Mothers' Testimony Project; BMTP; courts violate battered mothers' rights

Affiliations: .