Post-Divorce Children Relocating with Mothers Do Best: So Why Does the Braver Study Hide Its Own Results? Part II
Author: Trish Wilson.
Source: Volume 09, Number 02, December/January 2004 , pp.19-24(6)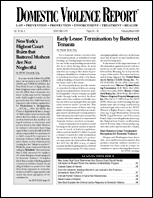 < previous article |next article > |return to table of contents
Abstract:
Part I of this article appeared in the last issue. In Part I Wilson explained that despite the Braver study's claim that relocation harms children, the Braver study actually found that children in the custody of their fathers do worst, while those with their mothers did best. Nonetheless, Braver is pushing the inaccurate claims in a last minute effort to influence the California Supreme Court, which is about to reconsider whether to allow parents to relocate with their children. This is the second of a three part article.
Keywords: Misrepresenting the Effect of Fathers' Absence to Prevent Mothers' Relocations; Braver Move-Away Study; LaMusga; father's presence not necessarily beneficial; bias against women

Affiliations: .