The Dimensions of Battering: New Understandings
Author: Lee H. Bowker, Ph.D..
Source: Volume 09, Number 02, December/January 2004 , pp.17-18(2)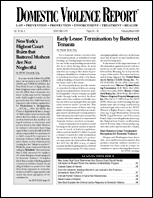 < previous article |next article > |return to table of contents
Abstract:
In this column, investigating lethal counter-violence cases, Bowker proposes five dimensions that encompass the batterer's system for controlling the battered woman. These are: physical, psychological, sexual, economic and social
Keywords: theoretical framework for analyzing the circumstances leading to these victim precipitated homicides; battering control abuse scale; California Board of Prison Terms; BPT

Affiliations: 1: Humboldt State University.